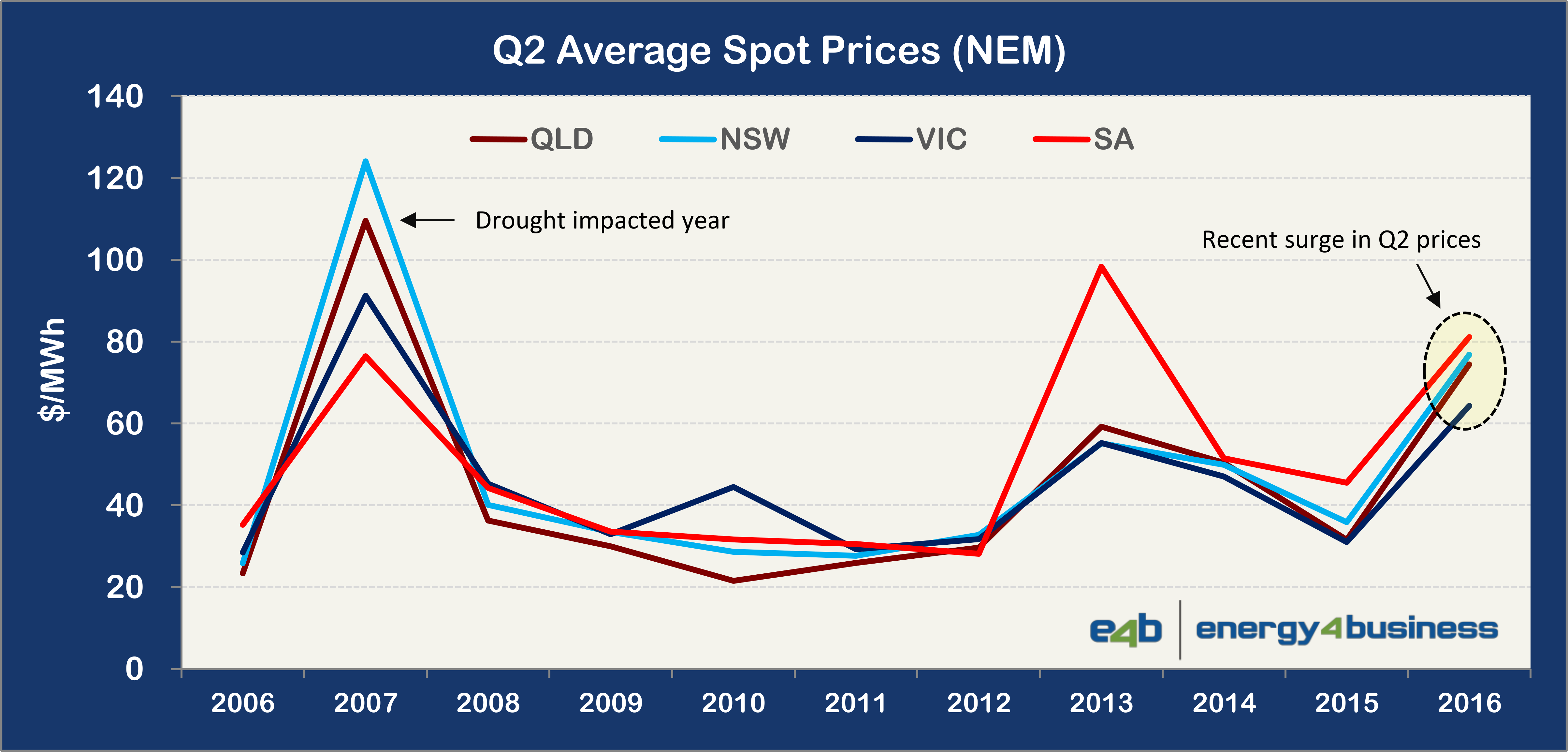 Businesses renewing their retail electricity contracts during the last quarter (Q2 2016) faced significant price rises due to a spike in forward wholesale electricity contract prices. These electricity price spikes were primarily the result of a surge in wholesale spot prices across all regions of the National Electricity Market (NEM).
With the exception of 2007, when drought limited production from major power stations, average Q2 spot prices were the highest in the history of the market in almost every region. Average spot prices ranged from $64/MWh in Queensland to $81/MWh in South Australia, well above price outcomes over the last decade which have averaged around $40-50/MWh depending on region.
The causes of these latest electricity price spikes are varied and complex. Some of the more obvious drivers include the impact of LNG-related electricity demand in Queensland, and the closure of Northern Power Station in South Australia. Other potential factors include generator bidding behaviour (i.e. the exercise of market power by generators who control a large proportion of the available generation capacity within a region), a high level of seasonal planned maintenance, unplanned power station outages (particularly in NSW), and the impact of a higher proportion of intermittent renewable power generation.
This recent surge in electricity prices underlines the importance of actively managing the timing of retail electricity contract renewals and the duration of those contracts. History shows us that the wholesale electricity market in Australia can be highly volatile. Businesses that passively re-contract when their existing contract is nearing expiry are more likely to be exposed to this volatility. We encourage businesses to plan ahead and actively consider re-contracting options up to 24 months ahead of their contract expiry dates.
Energy users who are due to re-contract later this year will be hoping that this recent surge in prices represents a short-term aberration rather than a new norm. We will be keeping a close eye on market outcomes and developments over the coming weeks and months.
For a more detailed update on wholesale price outcomes, download our latest market update report here.