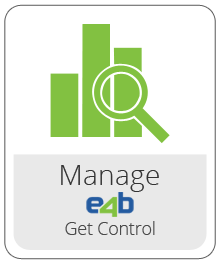 Energy management & monitoring
Our energy management service capitalises on opportunities to minimise
energy charges throughout the term of your supply contract and delivers
powerful data that can be used to further reduce your costs.
Network tariff optimisation
Companies are often found to be paying thousands of dollars more than they have to because they are on the wrong network tariff. e4b provides a regular check of your electricity account to confirm you are on the optimal tariff. We also facilitate tariff changes with the relevant network service provider.
Energy bill reconciliation & recoupment of overcharging
Energy invoices regularly contain material errors. e4b understands the component charges on your energy account and reconciles your monthly bill to ensure that you are not being overcharged.
Reporting
e4b provides a comprehensive and easy to understand suite of reports and charts, detailing your energy consumption, energy demand, power factor, load factor, emissions, and daily consumption/demand profiles. This data is useful for driving behaviour change and for identifying and assessing other energy efficiency or cost reduction opportunities. This information can also be used to help meet your environmental reporting obligations.
Demand monitoring
Many business customers are subject to additional charges for exceeding maximum demand thresholds under their network tariffs. e4b can provide alerts to actively manage the risk of exceeding your thresholds. Where appropriate, e4b can also provide you with access to near real-time reporting of usage and demand.
Optimisation of network tariff and retail contract settings
Many business customers have contractual variables or reporting obligations under their retail supply contracts or network tariffs. Active management of these settings can result in significant cost savings or the avoidance of penalty charges.
Optimisation of network connections
Customers with multiple connection points in close proximity can often significantly reduce their energy charges by merging connection points. e4b analyses and evaluates these opportunities, project manages the necessary physical works, and facilitates the contract amendments required to realise these savings.
Energy efficiency / cost reduction advices
As part of our energy management service we also provide general analysis and advices in relation to potential energy efficiency or cost reduction initiatives that we identify.