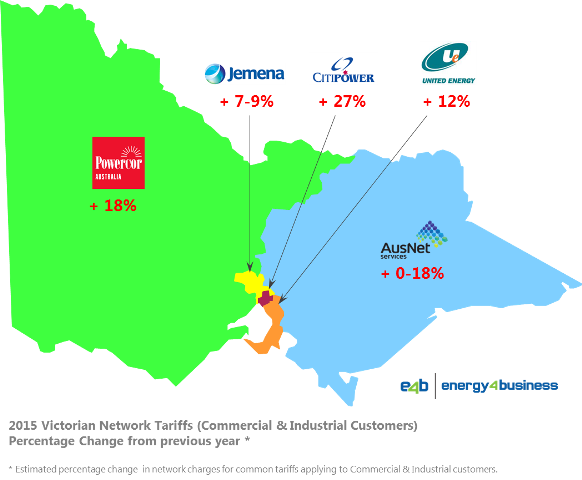 The Australian Energy Regulator (AER) has approved electricity network tariffs for all Victorian electricity distributors for the 2015 calendar year.  As a result, network charges for most commercial and industrial customers in Victoria will rise significantly from 1 January 2015.
Note, the range and structure of network tariffs in Victoria varies considerably across the five network areas. The graphic above provides an indication of the level of increase in each area. For a more detailed view of the change in your specific networks tariff class, please refer to the relevant pricing proposal or contact e4b for more information (links below).
Network charges cover the cost of electricity transmission and distribution (poles and wires). These charges are regulated by the AER, however, there is scope to minimise these charges.
Sites are often assigned to a sub-optimal tariff. This may be due to a change in tariff structures and pricing over time, or because your load profile has changed.  Your network service provider (NSP) is not responsible for ensuring that you are on the lowest cost tariff, so e4b regularly checks its customers' load profiles to determine the optimal tariff and contracted demand setting (where applicable). We also facilitate change requests via your NSP when a more optimal tariff or setting is identified.
Contact us for advice if you have any concerns regarding your network charges.
Phone: 1300 781 791 or email us at enquiries@energy4b.com.au.
The 2015 network pricing proposals can be found here.